From residential gardens to vacant properties, commercial buildings to storage facilities; wherever your site may be, we can clear it.
All of the materials and waste we remove from a site will be professionally taken care of. We are licensed and approved to carry and dispose of waste. We are focused on ensuring our services are as environmentally friendly as possible. That is why we recycle as much waste as we can and anything that can't be recycled will be disposed of responsibly.
SOLUTIONS FOR ANY PROJECT
The process of a site clearance is generally undertaken as part of a project preparation stage. We have worked alongside a range of projects, including residential garden transformation, commercial demolition, new build developments and many more. We have all the equipment and machinery needed to provide effective and efficient site clearance solutions. We can promptly clear the site enabling you to proceed with the next step in the project.
We have a fleet of machinery ranging in sizes so that we can offer solutions to suit any project. Whether the area you need cleared is small or large, we can advice on the most suitable solution
If you are in need of a site clearance service, give us a call. Our experts will be able to offer their advice and experience to ensure you get the right service for your needs.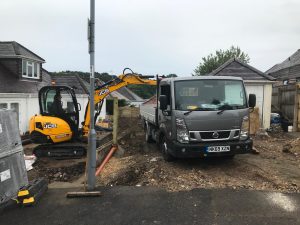 WHY CHOOSE US?
Hassle-free service
Short or long term hire
Well maintained & serviced
Reliable service
Same day delivery available
Competitively priced
High quality machinery
NEED A QUOTE? CALL 01202 482613
HIGH QUALITY MACHINERY
Whether you are a private or trade customer you can book a hire with Easy Digger Hire. We offer very competitive rates, and will happily deliver to your home or work site. Choose from micro diggers, 1.7 or 2.7 diggers or dumpers to hire. Click the link below to make a booking!
Tim Harrington

A prompt & friendly service from Mini Digger Hire Bournemouth, I cannot fault them everything went smoothly and hired the digger at a great price!" Used these guys for Grab Hire also 5 STAR Service ⭐⭐⭐⭐⭐
Tim Harrington
Barry McFarland

Excellent service, the guys couldn't have been more helpful! I will definitely use this company again in the future. Best Mini Digger Hire Company in Bournemouth !!! ⭐⭐⭐⭐⭐
Barry McFarland